Inside Out Community presents…
GLIMPSES OF INFINITY – A WRITE MINDS ANTHOLOGY.
Glimpses of Infinity showcases just a tiny sample of the work produced by authors from the Write Minds creative writing group, you can purchase this book here.
The anthology comprises an eclectic mix of pieces that were written during a series of creative writing classes run for Inside Out Community and Write Minds by Petra McQueen, the founder of The Writers' Company (https://www.thewriterscompany.co.uk).
Readers will enjoy reading these new short stories, prose pieces, and poems spanning a wide range of subjects from authors who are each unique in approach and style, but who all share a common passion for writing. For example: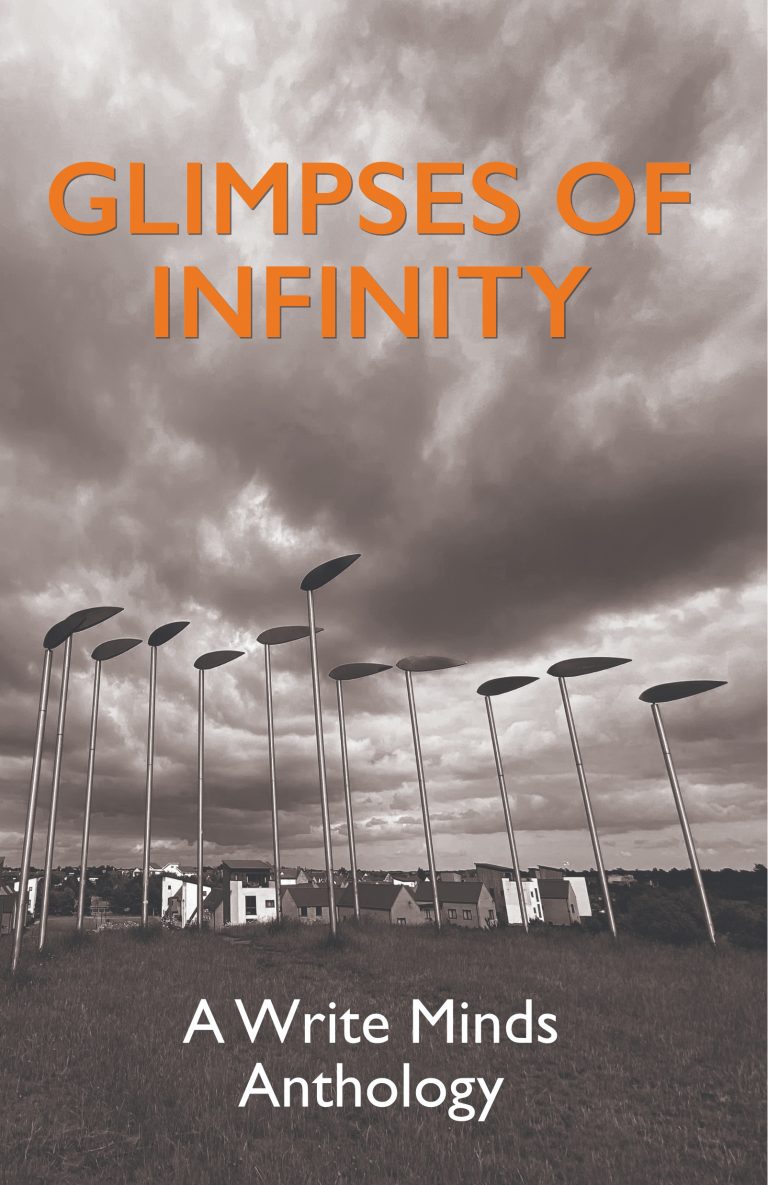 Brendan Wilson recounts the story of an elderly witch.
Jan Addison reflects on a field of daffodils.
Caroline Izzard explains the value of junk-journaling.
Simon Black weaves a new fable featuring an abundant chest.
Alan Vickers tells the story of a grieving widower who finds new hope for the future in the love for a tiny dog.
Tess Lass takes us inside the mind of a kitten experiencing something new.
Kenny Mackay recounts a late night encounter with a mysterious presence outside his home.
Mick Grant chronicles the misadventures of Superman as he tries to blend-in with the people and situations he experiences in our bewildering world.
Diane Pilbro explains how playing the djembe drum can help with well-being, healing, and exercise.
The family of Brendan Pearson share some poems and an excerpt from his loosely autobiographical novel Howard Flinch – an Introvert in a State of Angst.
Mai Black meditates on the lifecycle of a raindrop.
Sallyanne Webb finds haven in a hidden cove.
Peter Watkins reveals the dark mystery behind the strange events at Coopers Hollow.
Maggie Singleton spins the spooky tale of Rose as she walks through the snow towards the church music.
Esme Pears plays with time at the end of a life.
Thomas Freestone tells a story within a story, as a class of children listen to their teacher.
Hilli Thompson narrates the historic legend of a dragon that once terrorised Suffolk.
Ankita Aggarwal reveals the thoughts and memories of a river as it nears the end of its inevitable flow to join the sea.
Write Minds is the creative writing branch of a comprehensive arts-for-health programme run by Inside Out Community, which is an award-winning charity based in Ipswich, Suffolk. All profits from the sale of this book (available here) are invested back in to the charity to support our ongoing work. For more information, visit www.InsideOutCommunity.com.
If you are interested in joining our next Write Minds group please see here for more infomration