Dear friends
I send the warmest winter greetings to everyone at Inside Out.
What a bleak and stressful year of it has been for us all. I hope you like me are beginning to feel more hopeful and have a sense of coming through. As we move towards a New Year we trust that before too long our social connections – face to face – will be resumed . And what a joy that will be! That is not to forget the enormous death toll in our country which will leave us all with a sense of sorrow, whether we've been personally bereaved or not.
At this time of crisis in the world there has never been a greater need for the healing power of the expressive arts. All cultures find expression for their deepest longings, their deepest fears through the arts and find in them consolation and inspiration.  I wonder how important the arts have been for you during this time? I hope they've helped. I would say for me it has been one of the key things that has prevented me spiralling down in a very dispirited, apathetic state of mind; that and walking in nature. I have been writing a new collection of poetry, which is now substantially complete, although at times during the year I have found my concentration, energy and inspiration quite depleted. Reading too has been a godsend & reminds me again of how books are like portals to other places and other lives. They take us out of ourselves. I love it when I have a book on the go that I can't wait to get back too. Music too has been a blessed relief. I like to play blues and jazz with the sound cranked up. I've been re-discovering early rock n'roll too – Jerry Lee Lewis, Little Richard, Fats Domino, which has had me jiving around the sitting room like a whirligig. But I suppose most solace, most uplift, has come from choral music – the recordings of Tenebrae, Voces8 and The Sixteen. I found something transcendent in those wonderful harmonies.  To sit with your attention wrapped in that music is to be in a state of pure mindfulness. Alive, with your spirit soaring or held in a soothing cradle of sound. The arts are such a life enriching part of our lives.
I mentioned walking. So often this year on my walks in nature along the field tracks and estuary paths I have been suddenly reminded of the numinosity of nature. The ethereal beauty of red admiral sunning itself on a path; the sun suddenly lighting up the river like neon; the buzzards like winged gods spiraling over the fields.  All these moments and more  have  been gifts that have lightened a dark year & lifted the spirit.
I think my resolution for 2021 will be to try and live with more appreciation and gratitude for the wondrous gifts of the natural world and the delight of human companionship & community (and I say that as one who loves solitude too). I hope you like me find something of that sense of companionship and community within Inside Out. It has become such a wonderfully creative, warmly accepting collective, through which energy and inspiration flows and out of which something amazing is always likely to emerge.
All good wishes for Christmas and the New Year
Peter
Co Founder Inside Out Community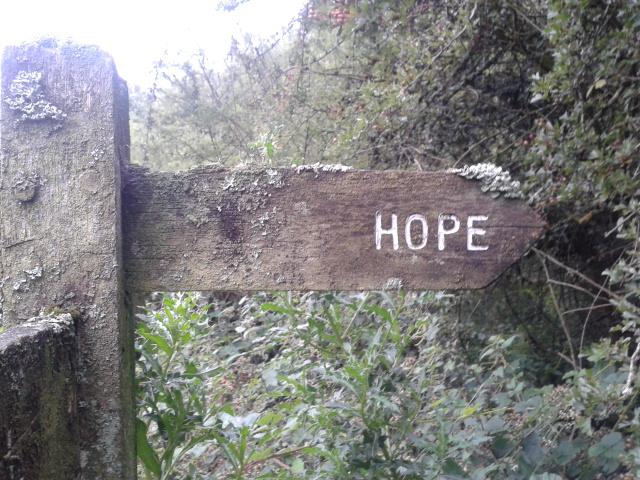 Footpath sign, Hope Valley, Derbyshire