The theme for this week is collage landscapes.  Here are some examples to help inspire you;
'Cell' by Jill Frost                                  
In 'Forest Collage' I was inspired by a painting –  "Cell" by Jill Frost. 
Stage 1– I took a piece of cardboard and I ripped it to reveal the corrugated texture inside. 
Stage 2 & 3 – For the ground texture and foliage I took some brown paper (the sort you now get as packing in parcels instead of bubble wrap) which I crumpled and then flattened out again. 
Stage 4 – I then cut shapes out to resemble tree trunks receding into the distance.
Stage 5 – I then stuck the wrinkled paper down and cut some other pieces of cardboard for the foreground tree trunks.                                                                                                    
Materials: cardboard, brown packing paper, scissors , glue.
'Forest Collage' – stages gallery by Allan Williams   
The whole picture is made from recycled cardboard and paper.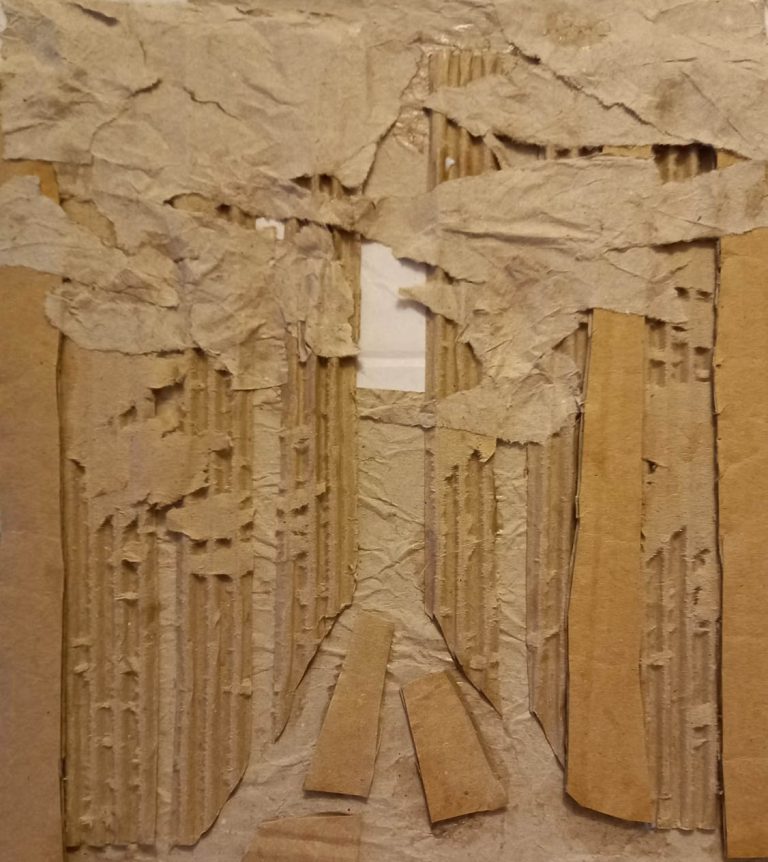 'Forest Collage' by Allan Williams                               
'Collage landscape 1' was created using scraps from old magazines & tissue paper.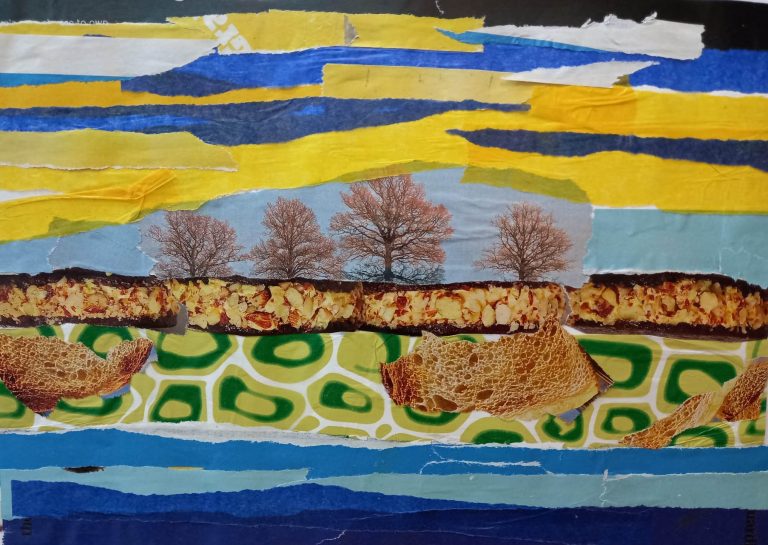 'Collage Landscape'  by Allan Williams                                
'Cabbage Tree collage' was taken from old magazines using some cabbage from a food magazine, curtains for the tree trunk and the  women with the flower in her hair becoming part of the landscape'
Materials: Old magazines, coloured paper and/or tissue paper, scissors, glue, backing paper or card (you could also add wrapping paper, bubble wrap or whatever textural or colourful material you have to hand).
'Cabbage Tree' collage by Allan Williams                                
I hope you feel inspired to have a go at this at home. You could base your collage on a painting, a photograph of a favourite landscape or simply invent your own landscape – have fun!