Calendar

Artworks: "Mapping our Lives" with Amy
28 May, 2021 @ 11:00 am

-

12:00 pm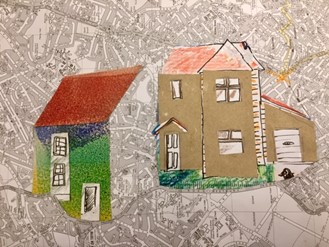 "Mapping Our Lives" with Amy
Mapping Our Lives Not the Road Map out of COVID, but the meandering map of life. In this workshop using mixed media, we are going to make pictures inspired by maps and the idea of maps, about life journeys. It could be your journey, that of someone you know or indeed someone you imagine. You might want to think about your journey from birth to now or you may want to think about a small but special part of your life, memories of playing in and wandering around my grandmother's garden have always been important to me for example.
We will be thinking about places and people and pets too if you like, that we encountered on our journey and collaging old photographs or drawings from memory on to our illustrated and collaged maps.
Materials: Paper, glue, drawing materials, painting materials optional, collage materials e.g. old maps, photographs, newspaper pictures or photocopies of these things and maybe packaging type papers to suggest age.